competition,
collaboration with Simon Takasaki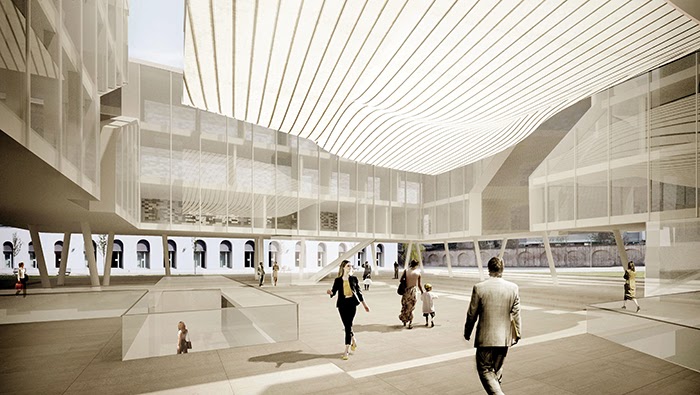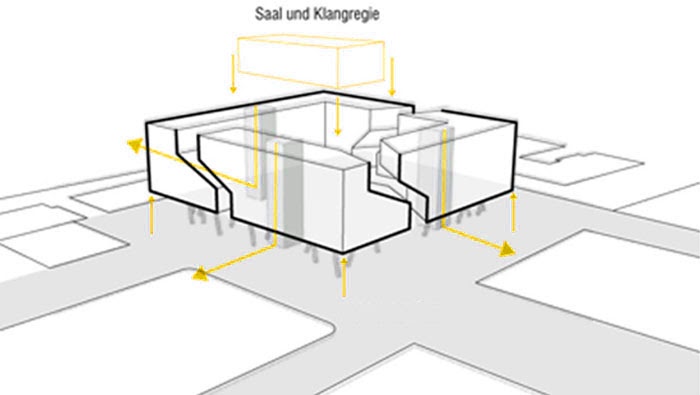 The University of University of Music and Performing Arts Vienna's building ensemble is composed of architectural styles dating from different eras and grouped around a courtyard / park. The park is framed by trees and offers valuable spaces for people to meet and communicate. The proposed design consists of a building standing out of focus, that fills the void and brilliantly complements the existing building ensemble. The building's design stretches to 16 height and perfectly fits within the existing roofscape. According to the functional programming the building itself will be divided in three parts that take their shape informed by the surrounding space: streets' axes seemingly continue and intersect with the cubic building mass, leaving the cube in three partitions. Thus the institutes' identity and heterogeneity are reflected in the building's design, at the same time featuring a homogeneous appearance.

The entire building program is lifted off the ground ensuring a generous and public space underneath and leaving existing walking paths intact. A complex and ambivalent spatial situation emerges: the building's form generates a clear cut vis-à-vis the courtyard, at the same time the public space continues inside the building.

The newly built structure is clearly divided into three areas: the Institute for Composition and Electronic Acoustics, the Institute for Keyboard Instruments and the Institute for Film and Television. Thus the three functions are organised in a compact manner allowing for short distances between each other. The spaces are arranged around a new courtyard in the centre of the building, the courtyard is encircled by a permeable corridor ensuring easy access. The building's cuts in between the individual institutes serve as space for communication and encounter. The large performance halls ( the great hall and the sound administration) are situated in the courtyard, in the building's centre, seemingly hovering above the ground. Through the lifting of building mass a sacred space is generated underneath that may be used as open air or urban stage.
Alluding to the ambivalence between weightiness and airiness the building creates inspiring spaces. The facade design incorporates the notion of QR(Quick Response)-Codes in order to serve communication and integrate new media. The QR-Codes will link to various web-based content , so the university will be able to get certain information on music, film etc across and the user may directly connect to up-to-date content via a smart phone. The QR-Codes will be thin foil layers integrated into the facade's glass planes. Through changing the QR-Codes the facade becomes an active and ephemeral element featuring an everchanging appearance, communicating with the users and representing openness and transparency.